DUST AND ECHOES, OR WHAT WE MADE OF STARDUST

Short Film
2022

Exhibited at 'What are Men to Rocks and Mountains' at P-OST Gallery, Nijmegen Netherlands, July-October 2022


"Dust and Echoes, or What We Made of Stardust" is an ecofeminist and counter-apocalyptic response to the future of minerals. It rejects the prevailing dystopian end-of-the-world narrative. Instead, the film speculates about a circle of cyberwitches and eco-priestesses exploring new forms of solidarity with the earth.
Situated in an alternate reality where intensified extractive processes influence radical practices of soil fertilisation with minerals reclaimed from technological remains, it attempts to make use of erosion and decay to create new systems of growth.
Central to the work is a ritual that is performed at the start of spring,
the spring equinox ritual, where the components of our devices are studied, the extractions of their raw materials acknowledged, along with their journeys, exploitation of them and their people.
This coven rescues the appropriated minerals from electronic waste and investigates how they can generate new life back under the earthly surfaces.
Through experimental film, this speculative fiction manifests as an intimate portrait of these spiritual women, offering a micro-vision of the conversations, relationships and rituals present within their coven of cyberwitches and eco-priestesses. By working through electronic waste and studying the effects of mineral composition on soil, these women devote their coven to deconstructing weathering technological devices to salvage 'borrowed' minerals and re-earth them to stimulate new life until perhaps, in a distant era, the conjuring starts again.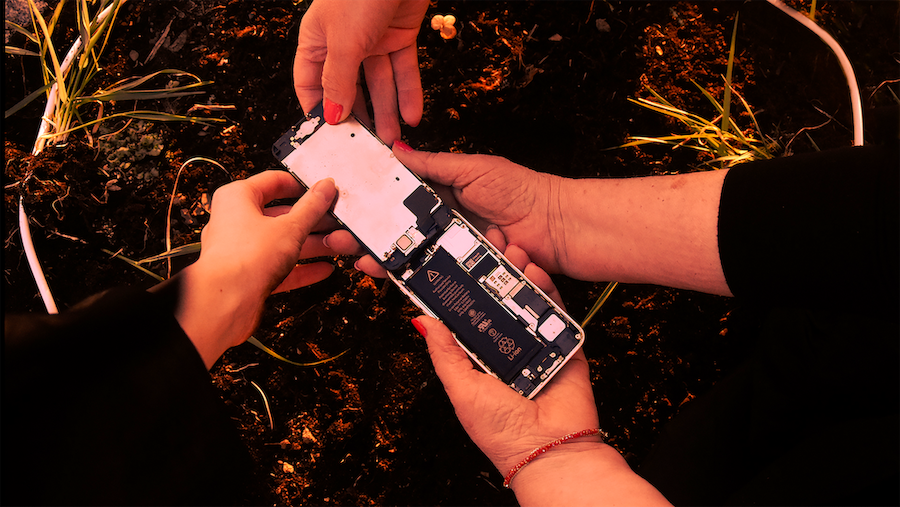 ©2023 Nella Piatek. All rights reserved.